THINK AGAIN
The Power of Knowing What You Don't Know
Adam Grant, Organizational psychologist at Wharton
CREATIVE ACTS FOR CURIOUS PEOPLE
How to think, create, and lead in unconventional ways
Sarah Stein Greenberg, Stanford d.school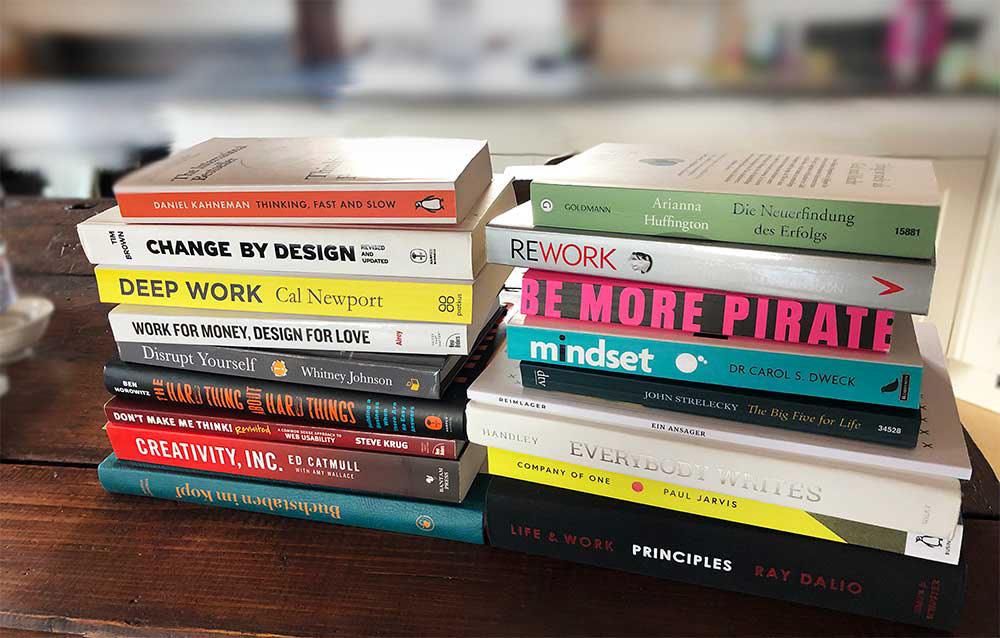 Business, Management & Leadership:
THE HARD THING ABOUT HARD THINGS
Building a Business When There Are No Easy Answers.
Ben Horowitz
GOTT IST EIN KREATIVER - KEIN CONTROLLER
Über das Leben außerhalb der Effizienzfalle oder warum wir mit unserem Lebenspartner kein Jahresgespräch führen sollten.
Frank Dopheide
CHANGE BY DESIGN
How Design Thinking Transforms Organizations and Inspires Innovation.
Tim Brown
COMPANY OF ONE
Why Staying Small Is the Next Big Thing for Business.
Paul Jarvis
THE INVINCIBLE COMPANY
How to constantly reinvent your organization with inspiration from the world's best business models.
Alex Osterwalder, Yves Pigneur, Alan Smith, Fred Etiemble
THE LEAN STARTUP
How Today's Entrepreneurs Use Continuous Innovation to Create Radically Successful Businesses.
Eric Ries
FLOWER LADIES
Von der Pflanzen-Leidenschaft zur Geschäftsidee. 20 Frauen im Porträt.
Karin Heimberger-Preisler
REWORK
Jason Fried, David Heinemeier Hansson
SPRINT
How to Solve Big Problems and Test New Ideas in Just Five Days.
Jake Knapp
HIT REFRESH
Wie Microsoft sich neu erfunden hat und die Zukunft verändert.
Satya Nadella
SO LÄUFT STARTUP
Florian Gschwandtner
STRATEGISCHES MANAGEMENT
Konzepte und Methoden
Matzler, Müller, Mooradian
WORK FOR MONEY, DESIGN FOR LOVE
Answers to the Most Frequently Asked Questions about Starting and Running a Successful Design Business.
David Airey
TRUST ME, I'M LYING
Confessions of a Media Manipulator.
Ryan Holiday
BE MORE PIRATE
Or How To Take On The World And Win.
Sam Conniff Allende
OBVIOUSLY AWESOME
How to nail product positioning so customers get it, buy it, love it.
April Dunford
BRANDED INTERACTIONS
Digitale Markenerlebnisse planen & gestalten.
Marco Spies
DEMAND-SIDE SALES 101
Stop Selling and Help Your Customers Make Progress.
Bob Moesta
CROSSING THE CHASM
Marketing and Selling High-Tech Products to Mainstream Customers.
Geoffrey A. Moore
HACKING GROWTH
How Today's Fastest-Growing Companies Drive Breakout Success.
Sean Ellis, Morgan Brown
MARKETING 4.0
Moving from Traditional to Digital.
Philip Kotler, Hermawan Kartajaya, Iwan
Setiawan
CREATIVITY, INC.
Overcoming the Unseen Forces That Stand in the Way of True Inspiration.
Ed Catmull
THE USER EXPERIENCE TEAM OF ONE
A Research and Design Survival Guide.
Leah Buley
DON'T MAKE ME THINK
A Common Sense Approach to Web Usability.
Steve Krug
BUCHSTABEN IM KOPF
Was Kreative über das Lesen wissen sollten, um Leselust zu gestalten.
Antonia M. Cornelius
STORYSELLER
Wie Marken zu Bestsellern werden. Teil 1: Storybranding
Ralph Stieber
EVERYBODY WRITES
Your Go-To Guide to Creating Ridiculously Good Content.
Ann Handley
STORY DRIVEN
You don't need to compete when you know who you are.
Bernadette Jiwa
BIRD BY BIRD
Some Instructions on Writing and Life.
Anne Lamott
NOBODY WANTS TO READ YOUR SH*T
Why That Is And What You Can Do About It
Steven Pressfield
PRINCIPLES
Life&Work
Ray Dalio
QUIET
The Power of Introverts in a World That Can't Stop Talking.
Susan Cain
MINDSET
Updated Edition: Changing The Way You think To Fulfil Your.
Carol S. Dweck
ELEVATE
Push beyond your limits and unlock success in yourself and others.
Robert Glaser
AUSSERGEWÖHNLICH
Ein FBI-Agent enthüllt die 5 Eigenschaften, die Menschen erfolgreich machen.
Joe Navarro
ZUSAMMENHÄNGE
Wie wir lernen, die Welt wieder zu verstehen.
Wolf Lotter
DEEP WORK
Rules for Focused Success in a Distracted World.
Cal Newport
SHOE DOG
A Memoir by the Creator of NIKE.
Phil Knight
EGO IS THE ENEMY
The Fight to Master Our Greatest Opponent.
Ryan Holiday
THE BIG FIVE FOR LIFE
Was wirklich zählt im Leben.
John Strelecky
EVERY MONDAY MATTERS
How to Kick Your Week Off with Passion, Purpose, and Positivity.
Matthew Emerzian
DIE SCHULE MEINES LEBENS
Weisheiten und Lebenstricks von ziemlich außergewöhnlichen Menschen.
Matze Hielscher
NO HARD FEELINGS
The Secret Power of Embracing Emotions at Work.
Liz Fosslien, Mollie West Duffy
21 LETTERS
on Life and its Challenges
Charles Handy
DIE NEUERFINDUNG DES ERFOLGS
Arianna Huffington
SAUGUTE ZUSAMMENARBEIT
Marktdruck erzeugen statt aushalten
.
Benno Löffler
DESIGNING YOUR LIFE
How to Build a Well-Lived, Joyful Life.
Bill Burnett, Dave Evans
BLINK
The Power of Thinking Without Thinking.
Malcolm Gladwell
MAKE TIME
How to Focus on What Matters Every Day.
Jake Knapp, John Zeratsky
DISRUPT YOURSELF
Putting the Power of Disruptive Innovation to Work.
Whitney Johnson
THINKING, FAST AND SLOW
Daniel Kahneman
Und zwischendurch mal ein Magazin:

NEUE NARRATIVE
Das Magazin für neues Arbeiten
CARPE DIEM
Zeit für ein gutes Leben
MEN'S HEALTH
Fitness, Kraft, Ernährung & Gesundheit